This item is only available for our Retail Store Pickup Located on Route 17 N. Paramus, NJ.

If you add this item to the cart and you are not picking up your order it will hold up your entire order.
Lay-ups, colors, and weights may vary based on available inventory. Please call for details
The Minnesota II is in a class of its own--the most efficient, straight-tracking, tandem tripping canoe ever made. If you travel in Minnesota's Boundary Waters Canoe Area or Canada's Quetico Park, you'll see a lot of these canoes.

The Minnesota II is fast and seaworthy when loaded with gear, yet fun to paddle lightly loaded. This rocket of a canoe is a favorite of Wenonah staff for after work paddles on the Mississippi. Its long waterline rewards skilled paddlers with unmatched glide and speed and it's straight tracking hull is easy to keep pointed toward your destination. If you're looking for a canoe that is an absolute joy to paddle on flatwater but is capable of tackling an ambitious wilderness expedition, the Minnesota II is the right choice.

The Minnesota II--the canoe that revolutionized portaging and long-distance paddling in the Boundary Waters and beyond.
CANOE RATINGS
Efficiency 10.0
Constructed from: Kevlar Ultra Light
Maneuverability 6.5
Capacity 9.0
Stability 8.5
Seaworthy 8.5
DIMENSIONS

Length 18' 6"  (563.88cm)
Gunwale Width 33.5"  (85.09cm)
Maximum Width 35"  (88.9cm)
Waterline Width 33.5"  (85.09cm)
Wt. 58 lb.
Stern Depth 17"  (43.18cm)
Center Depth 13.5"  (34.29cm)
Bow Depth 20.5"  (52.07cm)
Rocker 0"  (0cm)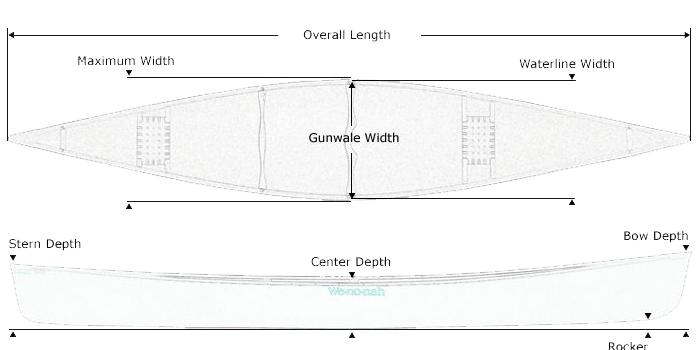 May not be the actual lines of the Minnesota II