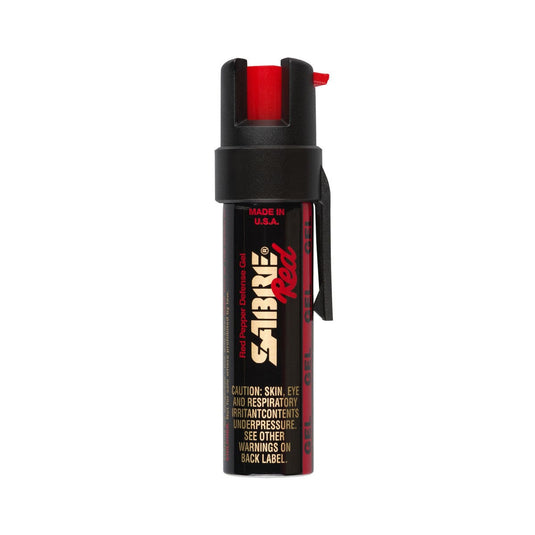 This item is only available for our Retail Store Pickup Located on Route 17 N. Paramus, NJ.

If you add this item to the cart and you are not picking up your order it will hold up your entire order.
The SABRE Pepper Gel with Attachment Clip provides maximum strength protection and the most pepper gel bursts on the market while being easy to carry and conceal. Pepper gel is safer with greater range; this canister contains 35 bursts (5x the competition) for protection against multiple threats at a safe distance. Unlike pepper spray, pepper gel resists wind blowback and is even safe to use indoors. With an industry-exclusive HPLC laboratory, only SABRE guarantees its maximum strength formulation in every canister to help give you peace of mind, certainty, reliability, and safety when you need it most. Formulated with UV marking dye, it also helps the authorities identify an attacker after they've been sprayed. For protection on the go, simply slide the clip onto a belt or clip it to the inside of a pocket or purse. SABRE Pepper Gel is made in the USA.
Personal Protection You Can Trust:

 

SABRE is the #1 pepper spray brand trusted by police & consumers & a leader in the personal safety category. SABRE Pepper Gel is made in the USA​
Guaranteed SABRE Maximum Strength Formula in Every Canister: According to an independent study conducted by the University of Utah, variability rates in the concentration of active ingredients in pepper sprays have a 30% failure rate. With an industry-exclusive HPLC laboratory, only SABRE guarantees its maximum strength formulation in every canister to help give you peace of mind, certainty, reliability, and safety when you need it most
Gel is Safer with Greater Range:

 

Pepper gel has an impressive 35 bursts deployed in a powerful stream of gel for protection against multiple threats. Pepper gel resists wind blowback and can also be used indoors unlike traditional pepper spray
Easy To Carry Protection:

 

The attachment clip allows the pepper gel to be attached to pockets or the inside of a purse or bag; it's a great alternative to key chain sprays when carrying on keys isn't preferred and is also easier to conceal for discreet protection
Stay Safe With Free Safety Training:

 

Feel secure with every SABRE product; Packaging includes links to free training videos so that, in the face of danger, you are better prepared to use your SABRE Pepper Gel​
| | |
| --- | --- |
| Item Weight (lbs) | 0.21 |
| Formula | Pepper Gel |
| Item Dimensions | 0.875 x 0.875 x 4 |
| Spray Distance (ft) | 12 |
| Number of Bursts | 35 |
| Spray Pattern | Powerful Stream of Gel |
| Liquid Volume (oz) | 0.67 |
| Package Contains | Pepper Gel, Belt Clip (non-removable) |
| Accessories | 173,386,181 |