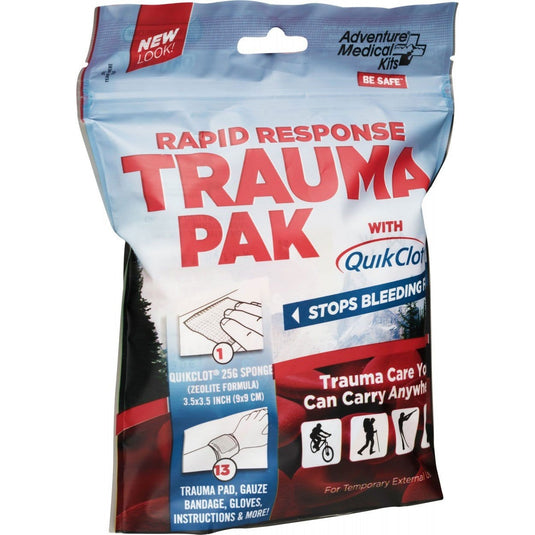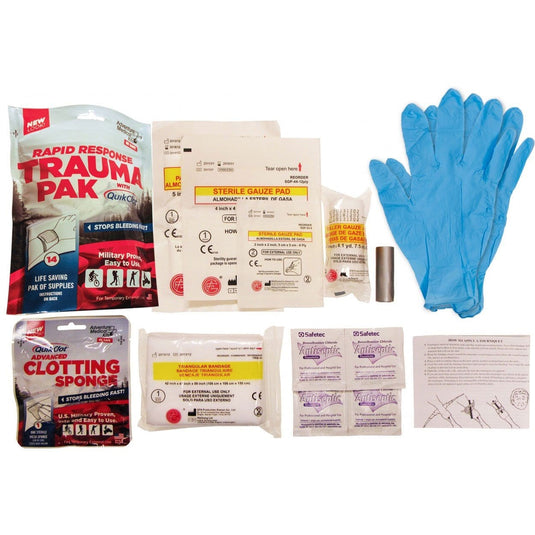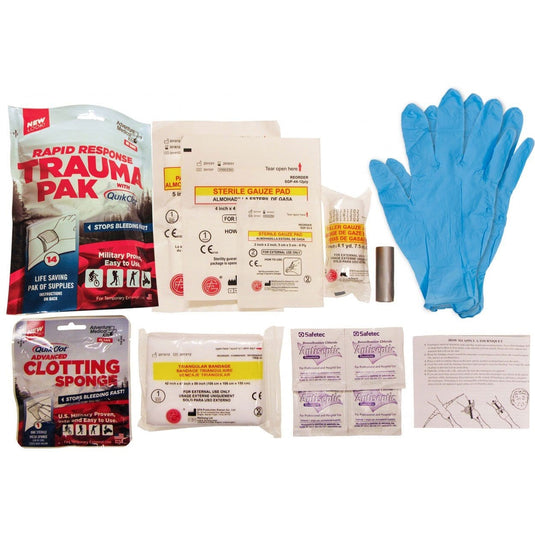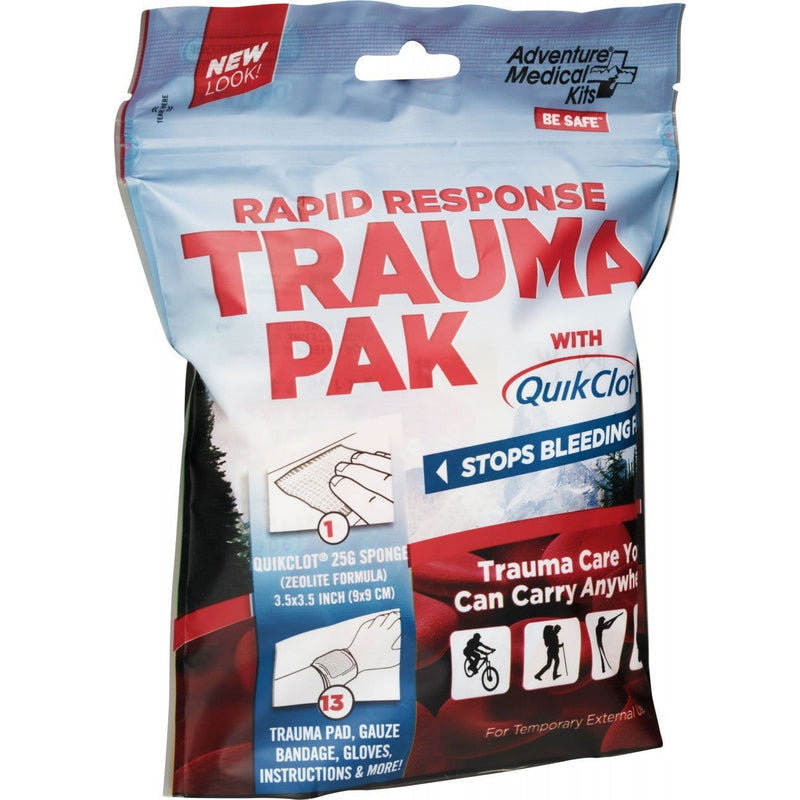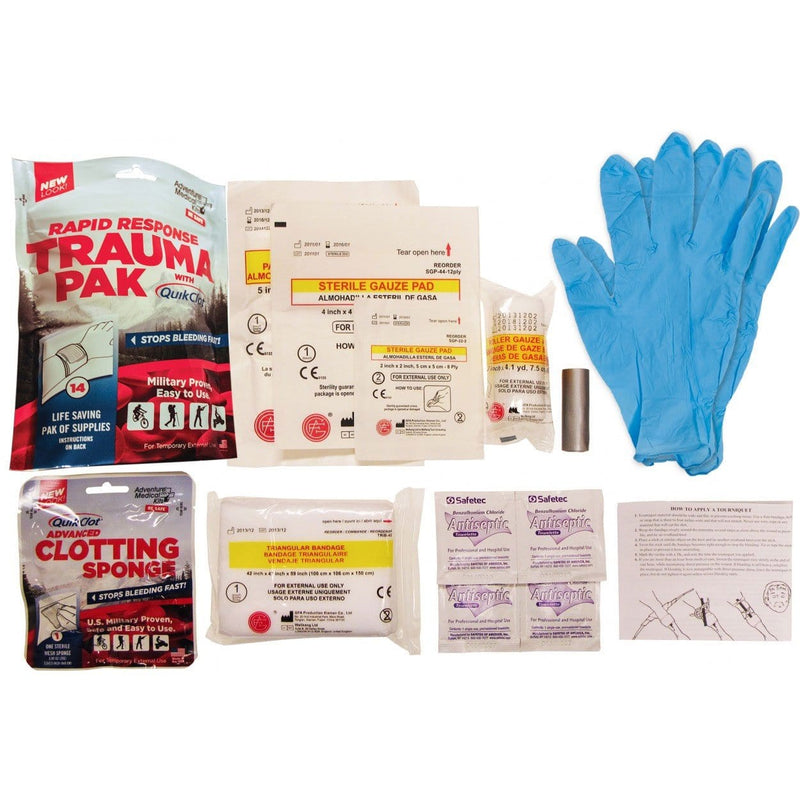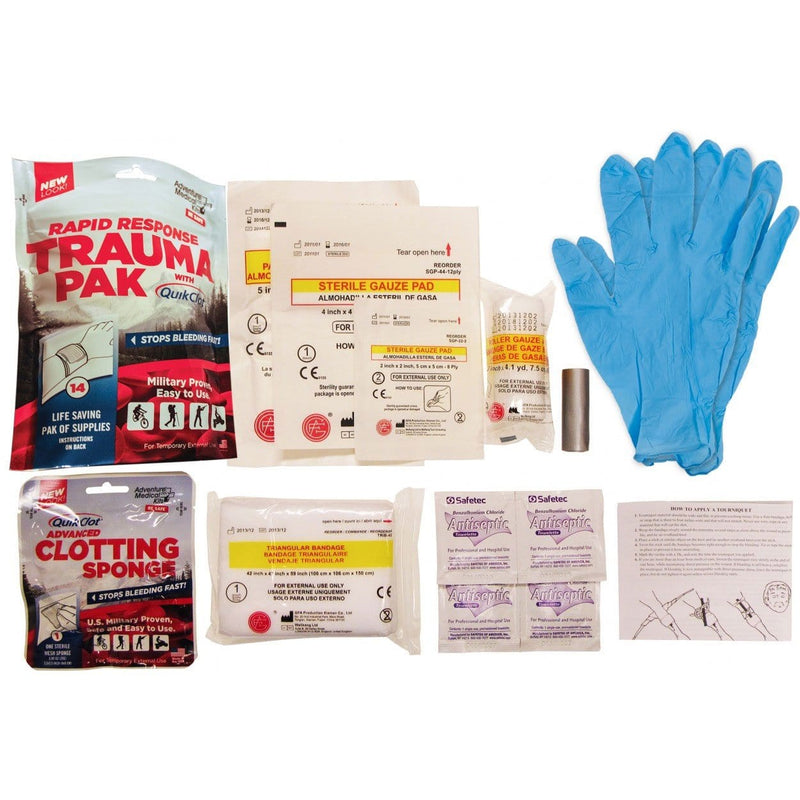 Professionals know it is about acting fast – excessive equipment only gets in the way. The Rapid Response Trauma Pak is designed to control bleeding at the scene so more advanced care can be sought later. The Rapid Response Trauma Pak contains Adventure® Medical Kits' QuikClot Sponge and other vital elements to control bleeding fast. Packed in a tough, waterproof, pocket-sized pouch, this Trauma Pak is easy to use: simply open, remove, and apply. Also included is an information pamphlet on treating injuries.
Respond Fast
The QuikClot Sponge uses zeolite, a common mineral, to help blood clot up to three times faster than blood on its own.
Durable, Waterproof, & Reusable
DryFlex™ packaging stands up to abuse in the outdoors—you can refill and reuse it for years.
Critical First Aid Information
An easy-to-understand information pamphlet delivers valuable information on how to treat certain injuries.
Goes anywhere, so you're always prepared
Fits in a cargo pocket, backpack, duffel bag—practically anywhere.
Personal Protection
Nitrile gloves and a biohazard disposal bag provide protection.
Bandage Materials
1 - Bandage, Conforming Gauze, 3"

1 - Dressing, Gauze, Sterile, 2" x 2", Pkg./2

1 - Dressing, Gauze, Sterile, 4" x 4", Pkg./2

Bleeding
Gloves, Nitrile (Pair), Hand Wipe

1 - 25 g QuikClot

1 - Trauma Pad, 5" x 9"

Duct Tape
Fracture / Sprain
Wound Care
Medical Information
1 - Trauma and Accident Management Instructions
We reserve the right to add, substitute, or delete items if necessary
Please note: Some medications may not be available in products sold outside of the US, additional items may be substituted.