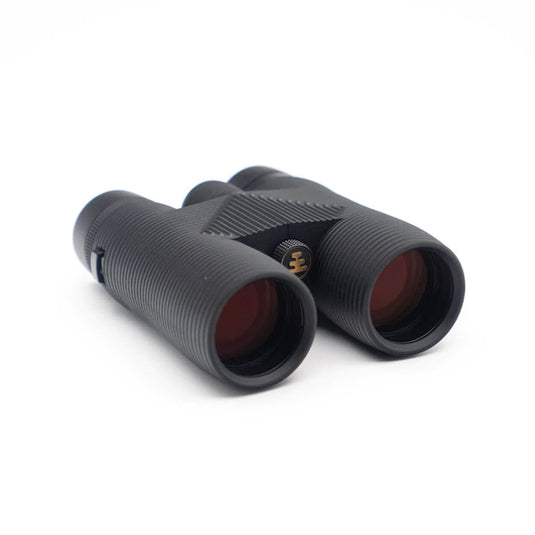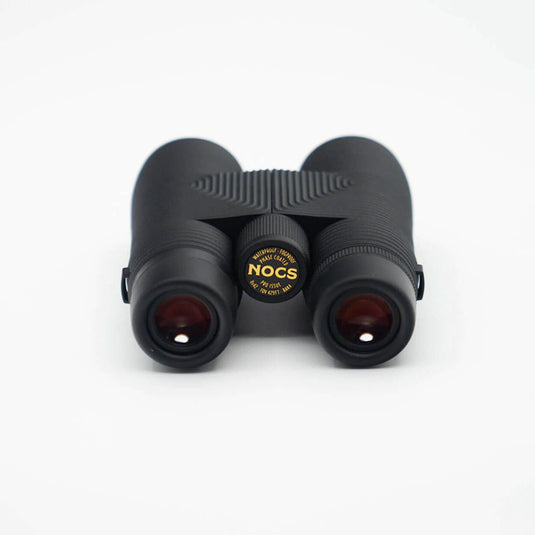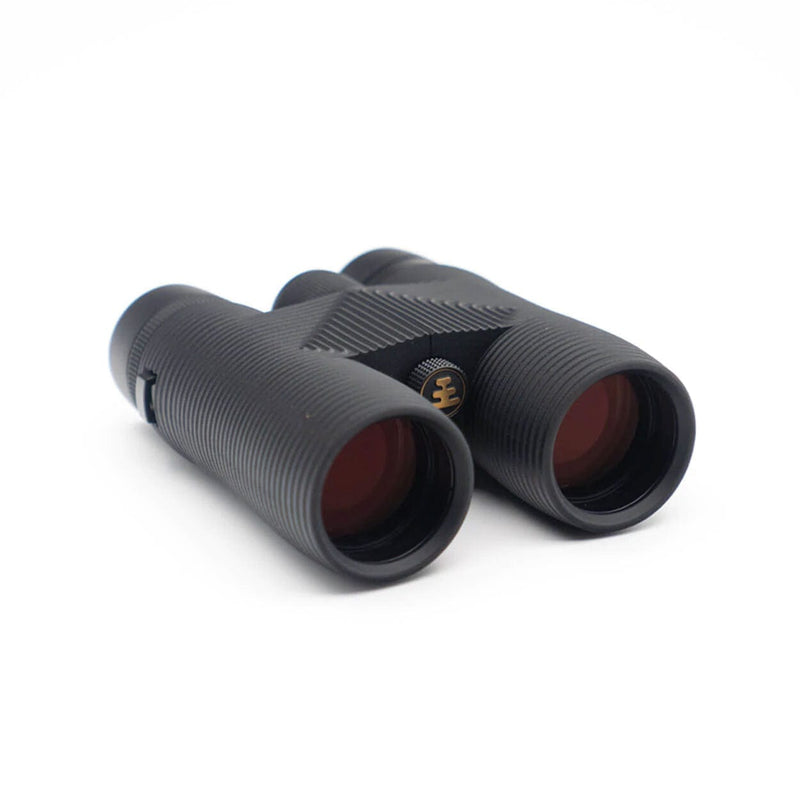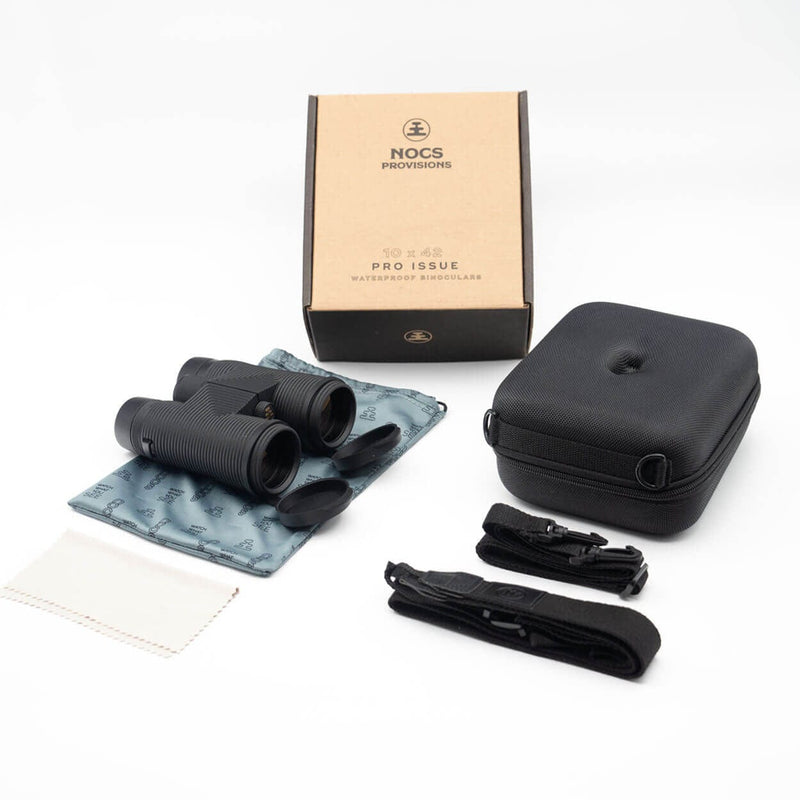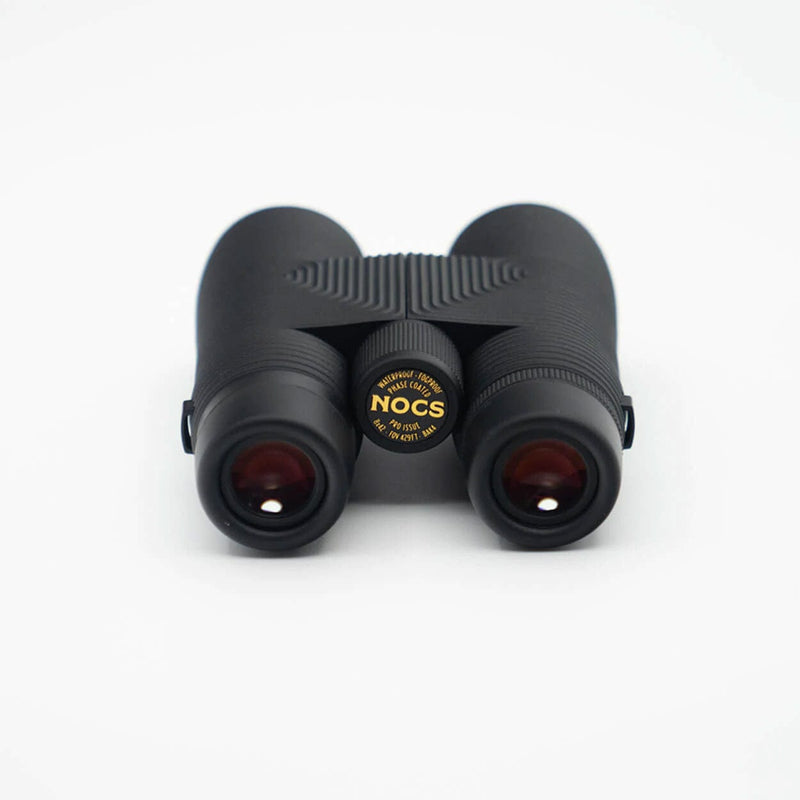 Pro level performance from Nocs. An unrivaled ultra wide field of view with true edge to edge clarity, multilayer phase-correction coatings applied to the Swiss-designed prism, and a close focus of less than 2M (6ft.), these binoculars provide a wide, rich, color correct image, matching the light of the outside world inside the optics. Did we mention these are fully waterproof and fogproof, great for birding, wildlife viewing, and rugged enough to take just about anywhere!
Wider Field of View (429 ft)
Magnification like 400mm lens
Narrower Field of View (342 ft)
Magnification like 500mm lens
Phase Coated BaK4 Prisms
IPX7 Waterproof and Fogproof
Fully Broadband Multi Coated Lenses
Drop Tested with Scratch Resistant Lenses
SUPREME RESOLUTION
Ultra Wide Field of View
A 429 foot field of view (8x @1000yds) that is distortion free across the field. This provides a new level of peripheral vision to a binocular in this class. It's as if the binocular housing simply disappears from sight while in use.
EXCELLENT CONTRAST AND SHARPNESS
Phase Coated BaK4 Prism
Multilayer phase-correction coatings applied to the prism surfaces ensure accurate image contrast and avoid unwanted interference effects. While all our optics have fully multi coated lenses, the Pro Issue extends these coatings to the prisms in order to maximize brightness and clarity from edge to edge.
EXTREMELY BRIGHT AND COLOR CORRECT
Fully Multi Coated Lens Array
Every surface of every piece of glass inside has multiple coatings of broadband anti-reflective coating. This is key to providing a crisp and color correct image, no matter the time of day… or night.
IPX7 + SEALED
Waterproof + Fogproof
Submersible in up to three feet of water and nitrogen sealed to prevent internal condensation. There's no reason to leave them at home - clean them off without worry.
EXCELLENT ADJUSTABILITY
Easy to Use
A refined feel in hand, with a smooth central focus knob, easy to dial in diopter adjustment, and a single hinge adjustment that fits all faces. Works for glasses wearers and those without using our multi step twist up eyecups.
SEE IT ALL
Tight Close Focus
With a close focus of less than 2M (6ft.), these binoculars fill the field with the closest details you see, whether a butterfly or a bee in a nearby tree. Not to mention, these are excellent for amateur astronomy, if you were wondering about that.
BUILT TO ROAM
Rugged Natural Grip
Designed to fit in your palm and to be held seamlessly without thought or worry. The ergonomic ribbed housing is designed to protect the product. Did we mention our no-fault No Matter What Lifetime Warranty?
NOCOGRAPHY
Snap a Photo
The Pro Issue shoots brighter and wider than any other Nocs product. Just line up your smartphone to capture the moment and share with your citizen scientist peers.
| | | |
| --- | --- | --- |
| Power: | 8x | 10x |
| Objective Lens: | 42mm | 42mm |
| Field of View: | 429ft @ 1000yds, 143M @ 1000M (8.17º) | 342ft @ 1000yds, 113M @ 1000M (6.5º) |
| Prism Type: | Phase Coated Bak4 Roof Prism | Phase Coated Bak4 Roof Prism |
| Lens Coating: | Fully Multi-Coated | Fully Multi-Coated |
| Waterproof Rating: | IPX7 - 30 min under 1M water | IPX7 - 30 min under 1M water |
| Fogproofing: | Nitrogen filled, sealed O-rings | Nitrogen filled, sealed O-rings |
| Diopter System: | ±4º, Right Eye | ±4º, Right Eye |
| Eye Cups: | Multi Stop Twist Up | Multi Stop Twist Up |
| Number of Lenses: | 8 pieces / 6 groups (per side) | 8 pieces / 6 groups (per side) |
| Close Focus: | 2M (6ft) | 2M (6ft) |
| Dimensions: | 145x129mm, 5.7" x 5.07" | 145x129mm, 5.7" x 5.07" |
| Height: | 55mm, 2.16" | 55mm, 2.16" |
| Weight: | 680g, 1.5lb | 680g, 1.5lb |
| Eye Relief: | 17mm | 15mm |
| Relative Brightness: | 27.04 | 18.23 |
| Exit Pupil Diameter: | 5.25mm | 4.20mm |
| Interpupillary Distance: | 55mm - 73mm | 55mm - 73mm |
| Tripod Compatibility: | Yes | Yes |