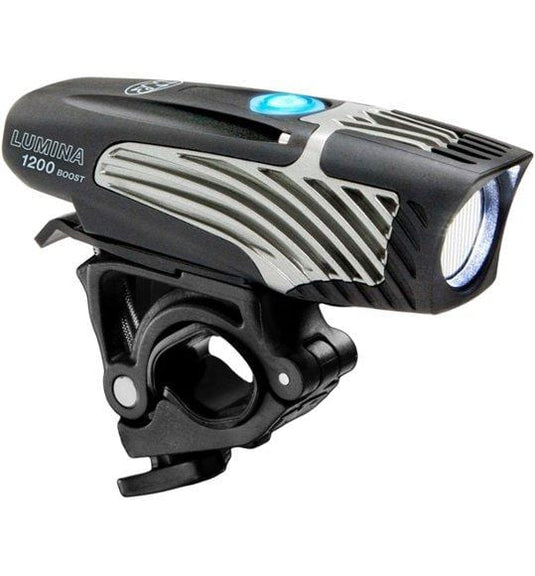 B6033 - NITERIDER LUMINA 1200 BOOST
The NiteRider® Lumina™ 1200 Boost provides enough light that it can be used in just about all riding conditions, whether it be on the road, on your favorite mountain biking trail, or hand-held in Walk Mode. Specifically designed to meet the needs of riders in all cycling categories, the Lumina™ 1200 Boost features the Boost Mode light setting. Simply double click the power button, giving you the option to operate your light at maximum light output! And utilizing a CREE™ LED at 6000k, means you'll get what most consider to be the best LEDs available on the market today. These high performance LEDs are extremely reliable, with no filament to break or burn out. With the all new custom engineered collimator optics, the Lumina™ 1200 Boost projects a beam pattern that provides a generous widespread and even beam pattern of 1200 brilliant lumens! The high-strength head light body casing is comprised of lightweight aluminum and Dupont® Fiberglass reinforced nylon that is highly durable.
High-performance CREE™ LED is extremely reliable, with no filament to break or burn out
Collimator optics create a generous, widespread, even beam pattern
High-strength aluminum and Dupont® fiberglass casing is reinforced with highly durable nylon
5 light levels plus Daylight Visible Flash (DVF) for visibility
FL1 Standard IP64 rated to resist water and dust
Fits standard and oversize 35mm handlebars; easy on/off handlebar mount with quick-release tab
Compact and lightweight design is also perfect for helmet mounting (helmet mount not included)
USB-rechargeable for convenient charging; IntelliCharge™ charges the battery twice as fast as the normal charge rate when connected to a higher-amp AC adapter
Lock mode prevents activation during storage and transportation; simply press and hold the power button for 7 sec.
Low battery indicator
Charge Time: 3 hours
Battery Life on High: 1.5 hours
Battery Life on Low: 6 hours
Battery Life Flashing: 10 hours
Weight: 6 oz.