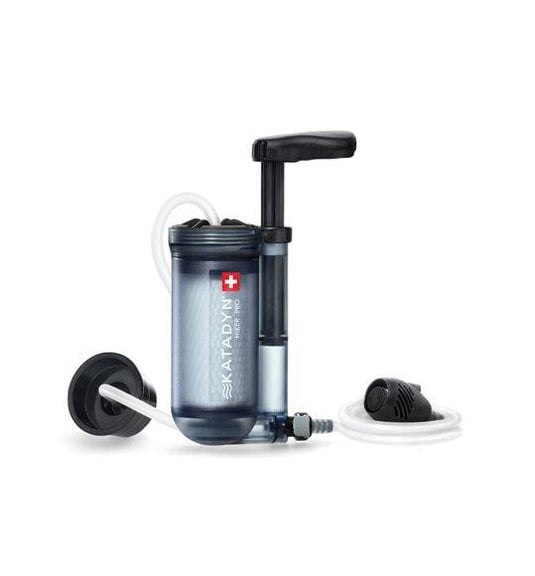 The Katadyn Hiker Pro is one of the most widely sold microfilter in the U.S. outdoor recreation market. The Hiker Pro is small, weighing a mere 310 grams, and thanks to its large filter area delivers outstanding pumping performance. It reliably eliminates bacteria, cysts, and sediments from water. The filter is very easy to clean on trips, thanks to its cleanable filter protector. The filter protector also appreciably extends the life of the 0.2 micron glassfiber filter cartridge. Its active carbon filling improves the taste of water and eliminates odors. Installation and removal of the input and output hoses is child's play, thanks to convenient Quick Connect fittings.
Removes bacteria, protozoa, cysts, algae, spores, sediments.
Reduces bad tastes and odors.
Pump filter, AntiClogTM pleated cartridge made with 0.2 micron glassfiber.
Includes activated carbon granules to improve water taste.
Includes: prefilter, removable filter protector, 2 quick connect hose sets, Easy Fill bottle adaptor and carry bag.
Wt. 310 g.