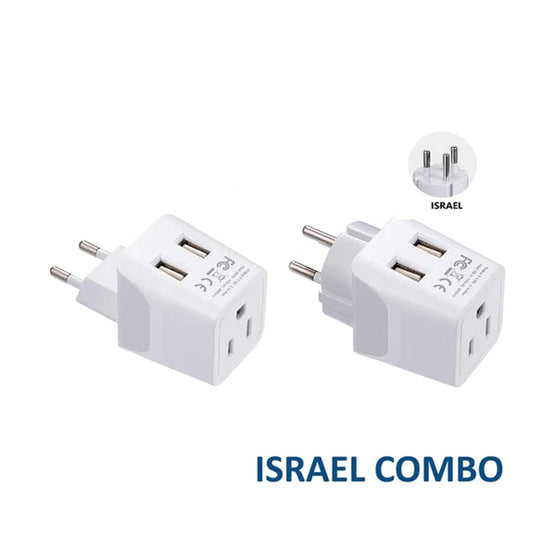 The CTU is designed in the US and it's our top choice for travel adapter to use in Type H and C outlets. It features one socket to connect a N. American 2-prong or a 3-prong power cord and two USB ports to charge your USB devices such as cell phones, tablets and portable battery packs.
Israel Combo Pack - includes both grounded and non-grounded plug types commonly found in Israel



Connects up to 3 Devices: 1 Grounded Outlet, 2 USB ports (Up to 2.4A)



Standard: Type H plug, Israeli SI 32 and Type C plug, CEE 7/16



Grounded 3-Prong plug and Non-Grounded 2-Prong plug Combo Pack



Accepts 2-prong and 3-prong N. American plug (NEMA 5-15p) (including polarized)



2x USB ports (12W Max) – ideal to charge cell phones, tablets or power banks by connecting USB cord directly to the USB ports on this adapter



Designed in the USA - ultra compact, simple, safe and easy to use adapter



Safe and fully grounded connection from input to output



CE Certified & RoHS Compliant



USB Port Specs:
Single USB output: 5V/2.4A

Both ports combined: 5V/2.4A shared
Lifetime Limited Warranty included



Note: This adapter doesn't convert voltage. It's compatible for use with dual voltage or worldwide voltage devices with input voltage range from 100-240V. If your device doesn't support the destination country's voltage then you may need to use it with an appropriate size voltage converter. Cell phone chargers such as iPad, iPhone, laptop chargers are dual voltage and are compatible with this adapter.