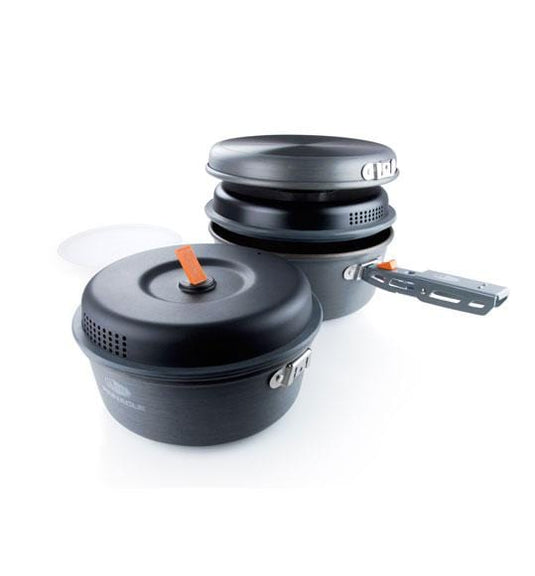 Find the ultimate in durability, efficiency and heat distribution in the GSI Outdoors Pinnacle Base Camper-Small cookset. Pinnacle series cookware uses Teflon® with Radiance technology which has been tested and approved expressly for campware use. The secret lies in a specially formulated topcoat, engineered to enhance heat dispersion and virtually eliminate hot spots. Moreover, the 3-layer coating was built to survive the toughest conditions and boasts an unprecedented level of scratch and abrasion resistance.
Use: Camping and canoeing
Weight: 2 lbs. 1 oz.
Size: 8.2"x8.2"x5.4".
Material: Non-stick coated hard anodized aluminum.
Set includes: 2 L pot, 1.5 L pot, 8" frypan, 2 strainer lids,cutting board,folding pot gripper,welded sink/carry sack.
Included sturdy cutting board has both dished and flat sides for a variety of prep duties and isolates the pots to protect the non-stick surface and prevent clattering.
Rugged welded sink acts as a washbasin and holds set during storage or transport.
Exclusive folding gripper locks to and removes easily from exterior brackets to prevent scratching while providing a secure handle for cooking.
Unique design nests compactly for storage.
Crushproof strainer lid made of BPA-free polypropylene prevents deformation of your pot and works with either the pot or the frypan.