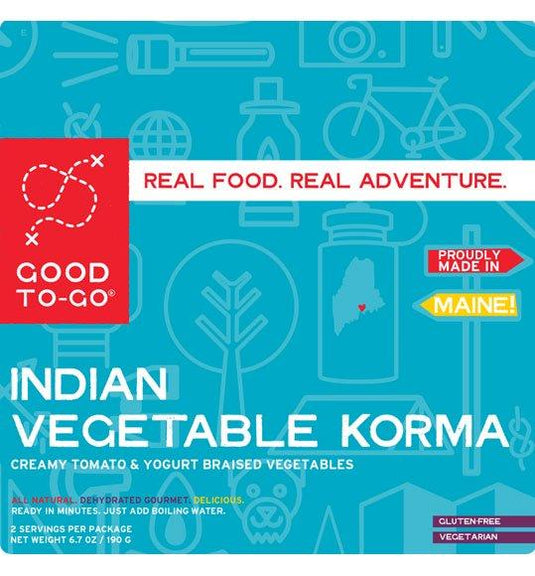 Settle into a warm, mild spiced, creamy korma at the end of the trail, when you pack the Good To-Go Indian Vegetable Korma 2-Servings. This traditional recipe is made with yogurt and tomatoes, with whole toasted and ground spices, walnuts and coconut. The vegetables are cooked in the paste and then dehydrated. When boiling water is added to the Korma, it creates an aromatic, hearty dish that will satisfy you and pique your taste buds at the same time.
INGREDIENTS: Carrot, Parsnip, Green Bean, Chick Peas*, Onion, Sweet Peas, Tomato Flakes*, Canned Tomato Paste (Vine Ripened Tomatoes), Unsulfured & Unsweetened Shredded Coconut, Yogurt Powder Blend (Cultured Whey, Nonfat Milk Solids & Yogurt Cultures), Grapeseed Oil, Ginger, Walnuts, Garlic, Kosher Salt, Poppy Seed, Coriander, Fennel, Cumin, Cardamom, Turmeric, Cinnamon, Clove, Dried Chilies   *Dehydrated
This product is made in a facility that handles peanuts, dairy, egg, soy, wheat, treenuts, fish and shellfish (lobster and shrimp).
Creamy tomato and yogurt braised vegetables.
All natural.
Dehydrated.
Gluten-free.
Vegetarian.
Ready in minutes. Just add boiling water.