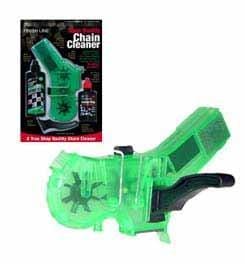 Finish Line began innovating chain cleaners back in 1988 when its patented rotating brush design set the standard. For the first time a bicycle chain could be thoroughly cleaned in a minute or two without taking it off the bike. This chain cleaning system is quick, efficient and easy to use.
Finish Line's proprietary rotating brushes are utilized for a  smoother, and more efficient drivetrain. The exit angle is at 47 degrees, which virtually eliminates drips and spills. An additional row of scrapper pads enhances side-plate cleaning. A large magnet attracts and hold magnetized wear particles and is located at the bottom of the chain cleaner. Shop quality plastic prevents shattering when dropped.
For cyclists who are serious about keeping their drivetrain in race-ready condition, Finish Line's Pro Chain Cleaner is a valuable piece of equipment that will make this tedious task much easier.
Use once or twice a month to maximize your bicycle's chain life and enjoy a cleaner, smoother, and more efficient drivetrain.
Quick, efficient, and easy to use
No removal of chain necessary
Works hands free
Clips onto chain in just 60 seconds
Use once a month to maximize chain life
Clips directly onto the chain without the need to remove the chain
Three-brush rotating design and scrubber pads clean the chain fast, usually in less than one minute
30 degree exit angle eliminates messy drips and an oversized magnet at the bottom collects metal fillings and contaminants
Heavy-duty industrial resin body withstands ship use and will not crack from work bench drops