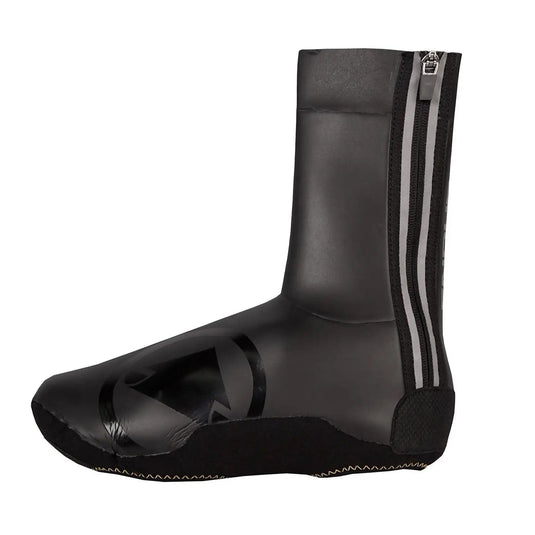 Keep riding year round with the ultimate cold weather overshoe that keeps your feet dry and cosy in even the worst of weather.
The Freezing Point Overshoe II is the next generation ultimate cold weather riding overshoe. Rigorously tested in the depths of Scottish winter to give you confidence to get out on your bike without having to worry about loosing all feeling in your toes.

Comfort was a key consideration when updating the Freezing Point Overshoe II. To improve pedaling comfort, the decision was taken to off-set the rear zip, moving at away from the flex point behind your ankle reducing the chance of it digging in.

Fabric
Smooth neoprene outer face creates a surface that water naturally runs off, while a thick brushed internal face fabric provides warmth and comfort . A durable sole with cleat access points stitched with a bulletproof aramid thread that extends the lifespan of our product beyond more flimsy alternatives on the market.
Fleece lined neoprene construction
High cut design for extra protection
Raw edge neoprene with inner silicone strip around ankle to prevent movement and help keep water out
Offset rear zip with snap down puller and zip guard
Hard wearing aramid sole and stitching using aramid thread
Crank rub protection print
Reflective details
Polyester 5%, Nylon 5%, Neoprene 90%