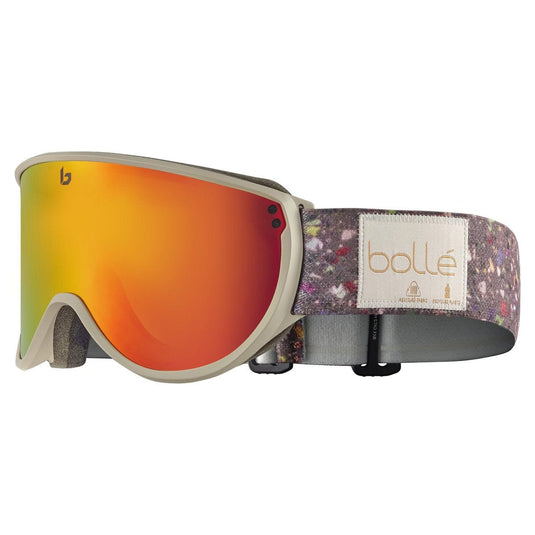 The eco designed version of the BLANCA, our goggles for women with a design inspired by the fashion eyewear industry. Its strap is made
of 65% recycled polyester with patches 100% recycled. Both the frame and its adjusters are bio-based, made with renewable castor oil.
Available with Volt, Bollé's revolutionary high contrast lens for an unforgettable experience.
Cylindrical DOUBLE LENS - Creation of a dual-pane thermal barrier between the cold dry outside air and the moisture generated by intense activity prevents distracting condensation from forming
Anti-Fog treatment - Embedded premium Anti-fog layer in the inner lens disperses water molecules across the surface of the lens, restricting moisture build up that can impede your crystal-clear view of the terrain ahead. Available on all our goggles.
Anti-Scratch treatment - A high-tech protective armor applied to the outer lens creates a shield to significantly reduce scratching, keeping your lenses and outlook as clear as a bluebird sky.
FLOW-TECH®VENTING - Engineered venting systems in each frame promote directional air flow across the inside surface of the lens, reducing the potential for moisture build up and maintaining your pristine vision
65% recycled polyester strap with
100% recycled patches
48% bio-based frame and adjusters
(made with renewable castor oil)
Silicone on strap
Triple density foam
Vented lens
100% UVA/UVB Protection
Optical Clip Compatible