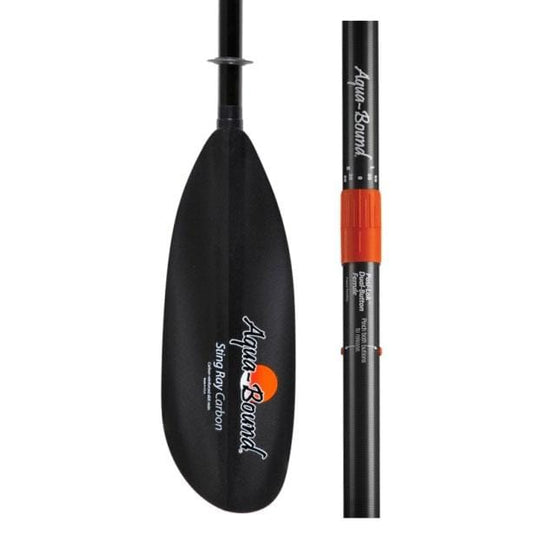 This Product has a flat rate ground shipping rate of $30 per item. Additional oversized or overweight packages might have additional charges. You will be notified, prior to processing, of any additional surcharge and for your approval. The charge will be added at the time of processing your purchase. Your order will not be shipped until we receive your approval. 
This product cannot be shipped to Alaska, Hawaii, Puerto Rico or the Virgin Islands. The shipping rate will be viewed on the checkout page.
Our most popular flatwater blade paired with our patented corrosion-free ferrule makes for a winning combination.
100% Carbon shaft delivers superior performance
Mid-sized, carbon reinforced blades allow for a smooth, flutter free forward stroke
Weighing 28.75 ounces, the Sting Ray Carbon is the lightest flatwater injected molded kayak paddle available under $200 

The Sting Ray Carbon offers the Posi-Lok® ferrule system which clicks into position firmly and securely featuring strong, corrosion-free composite construction, convenient dual-button release, and infinite feathering angles

Licensed Ferrule US Patent No. 6,881,111
Shaft Material: 100% Carbon
Blade Material: abX Carbon Reinforced Nylon
Blade Size: 6.25 x 18 in. (16 x 46 cm.) 
Blade Surface Area: 91 sq. in. (587 sq. cm.)  
Weight: 28.75 oz. (815 g) 
Ferrule Angles: Infinite