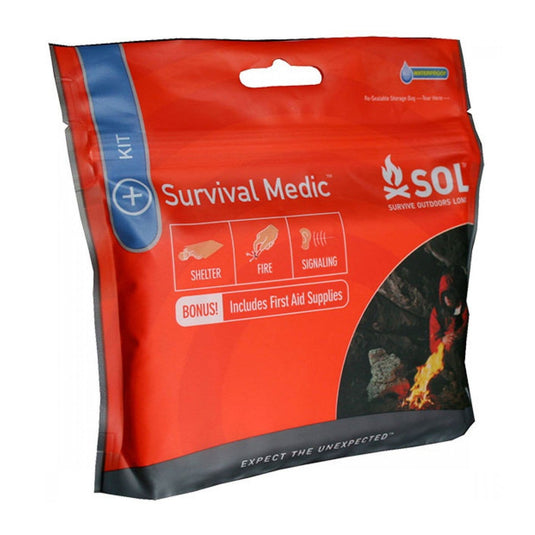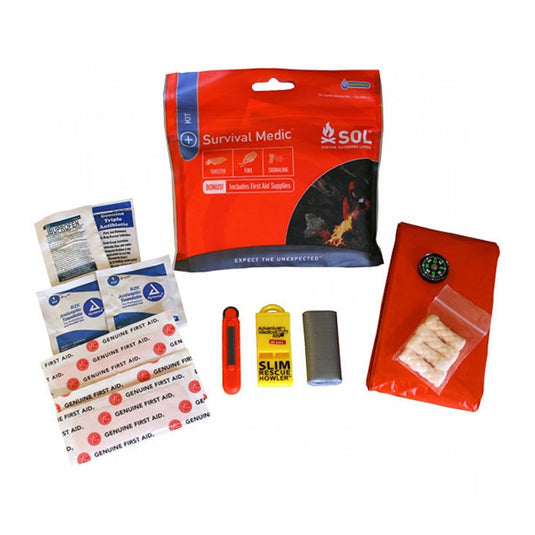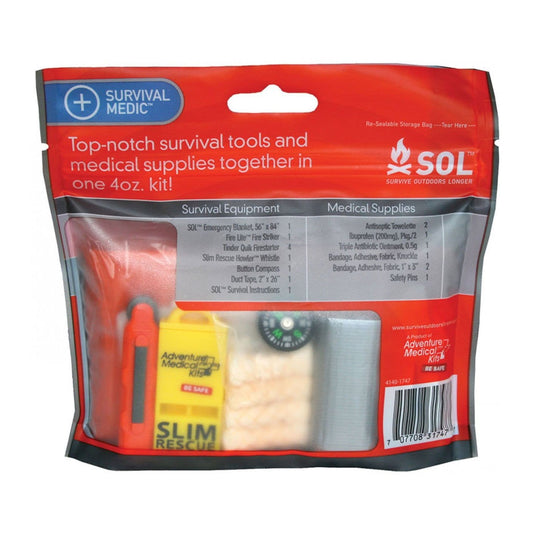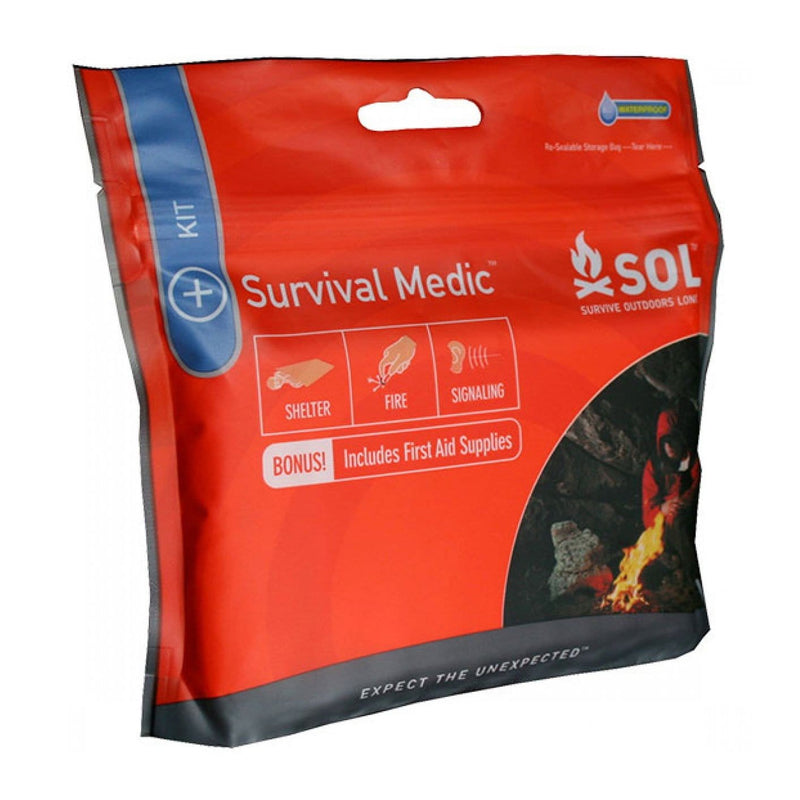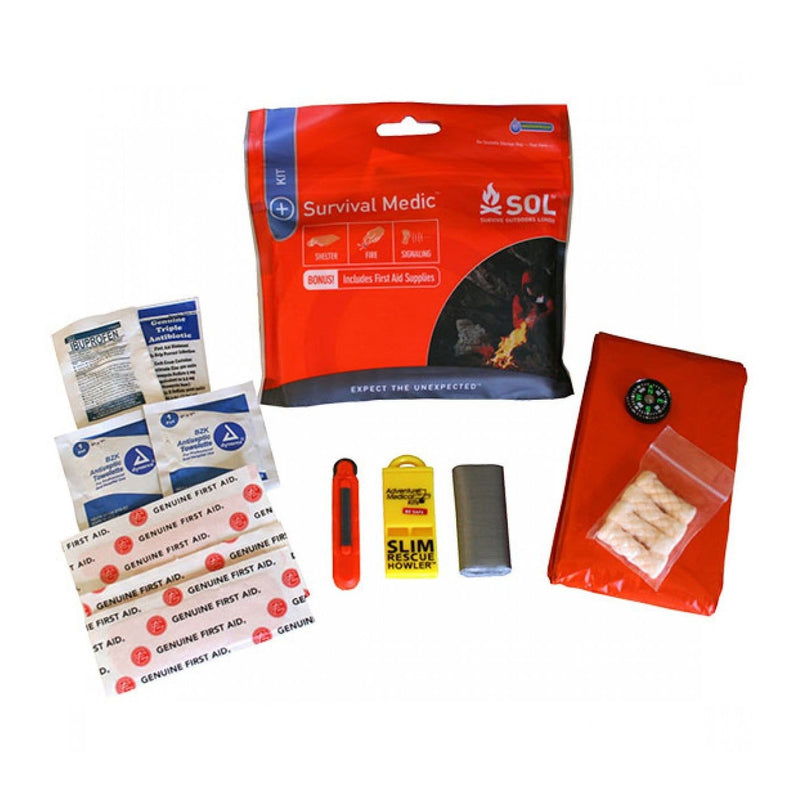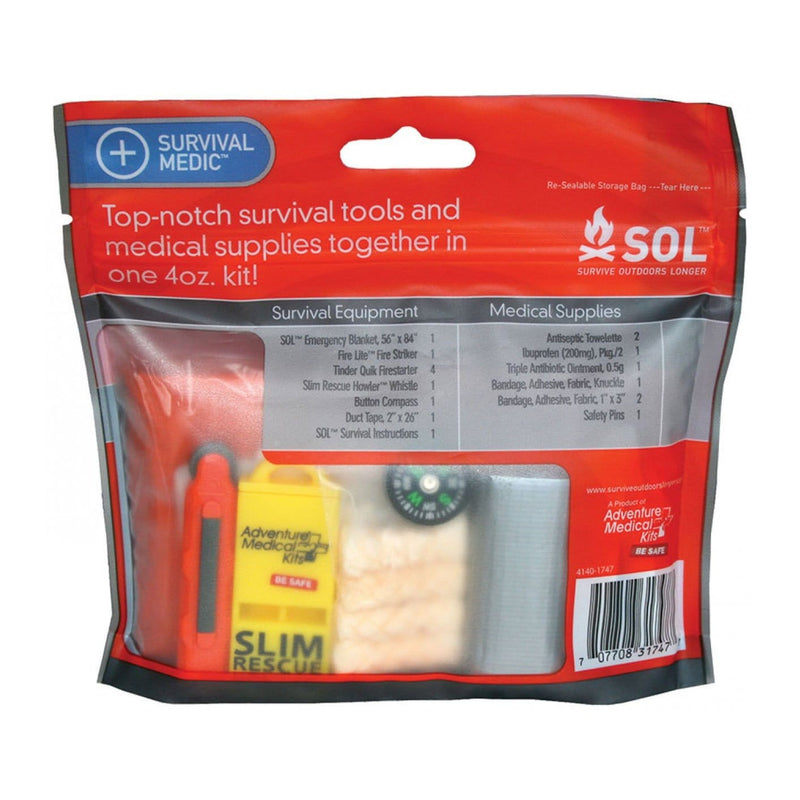 When the unexpected happens, having survival, medical, and gear repair supplies close at hand is essential. The Survival Medic is compact and lightweight, easily slips into a pocket, and is meant to be kept on your person at all times without adding unnecessary bulk or weight. Packed inside the ultralight waterproof pouch is a Survive Outdoors Longer Emergency Blanket, Fire Lite™ sparker, Tinder-Quik™ tinder, Slim Rescue Howler™ whistle, duct tape, and button compass, as well as antiseptic wipes, gauze, and bandages to patch up cuts and scrapes. Features a proprietary DryFlex™ bag for the ultimate in ultralight, waterproof storage.
Ultralight, Waterproof, and Pocket-Sized
DryFlex™ Medic pouches weigh next to nothing, fit just about anywhere, and keep water out of your kit.
Stay Warm
Survive Outdoors Longer Emergency blanket reflects 90% of radiated body heat.
Be Heard
100dB whistle signal is audible over one mile.
Start Campfires and Camp Stoves
Fire Lite™ striker is waterproof and tested to produce over 5,000 sparks; Tinder Quik™ burns up to two minutes, even when wet.
Fix Yourself
Mini roll of duct tape to repair gear or yourself.
Find Your Way Back
Button compass to help you get your bearings straight.
Manage Pain and Illnesses
Medications to treat pain, inflammation, and common allergies.
Care for Cuts and Scrapes
Antiseptic wipes, ointment, and bandages take the sting out of everyday injuries.
KIT DETAILS
Package Size:

6" x 5.5" x 1"

Package Weight:

4 oz.

Group Size:

N/A

Trip Duration:

N/A

Item #:

0140-1747
Survival Equiptment
1 - SOL™ Emergency Blanket, 56" x 84".
1 - Fire Lite™ Sparker
4 - Tinder Quik™
1 - Slim Rescue Howler™ Whistle
1 - Compass, Button, Liquid Filled
1 - Duct Tape, 2" x 26"
Survival Instructions
1 - SOL™ Survival Instructions
Medical Supplies
2 - Antiseptic Towelettes
1 - Ibuprofen (200mg), Pkg./2
1 - Triple Antibiotic Ointment, 0.5g
1 - Bandage, Adhesive, Fabric, Knuckle
2 - Bandage, Adhesive, Fabric, 1" x 3"
1 - Safety Pin
We reserve the right to add, substitute, or delete items if necessary
Please note: Some medications may not be available in products sold outside of the US, additional items may be substituted.