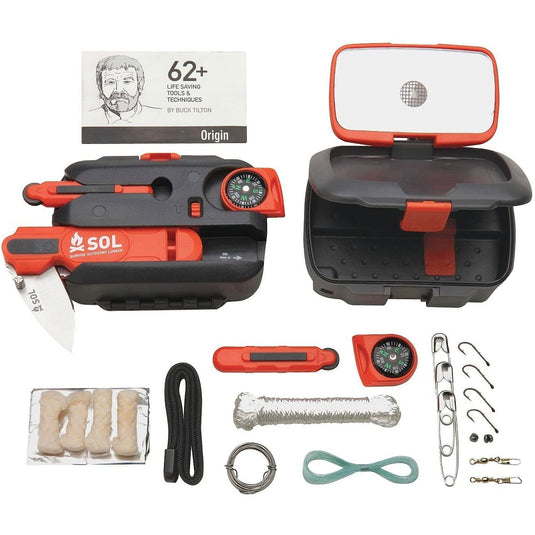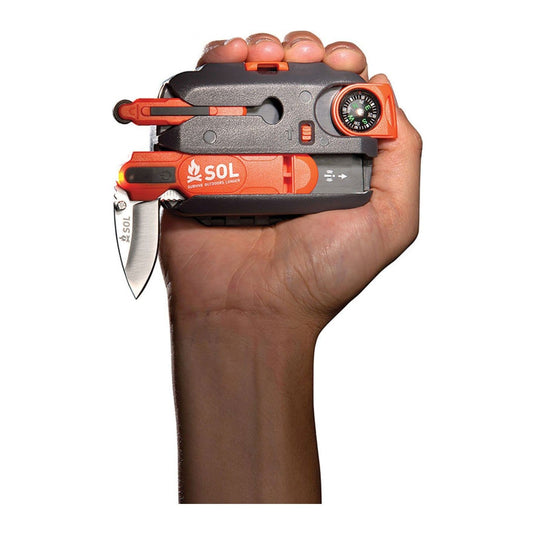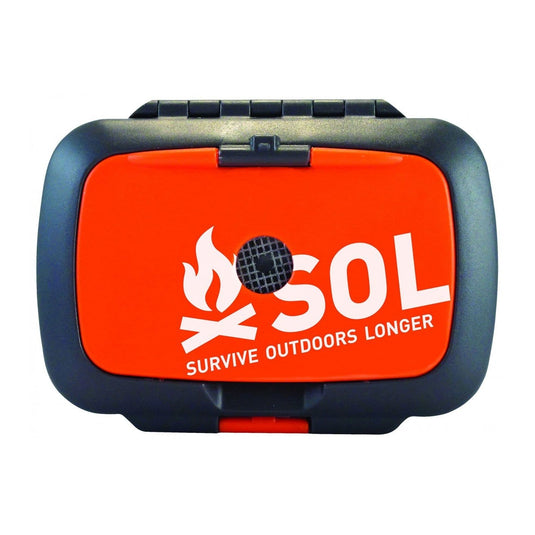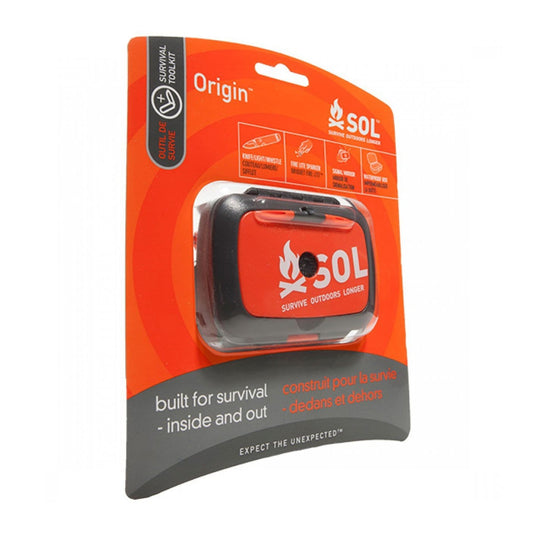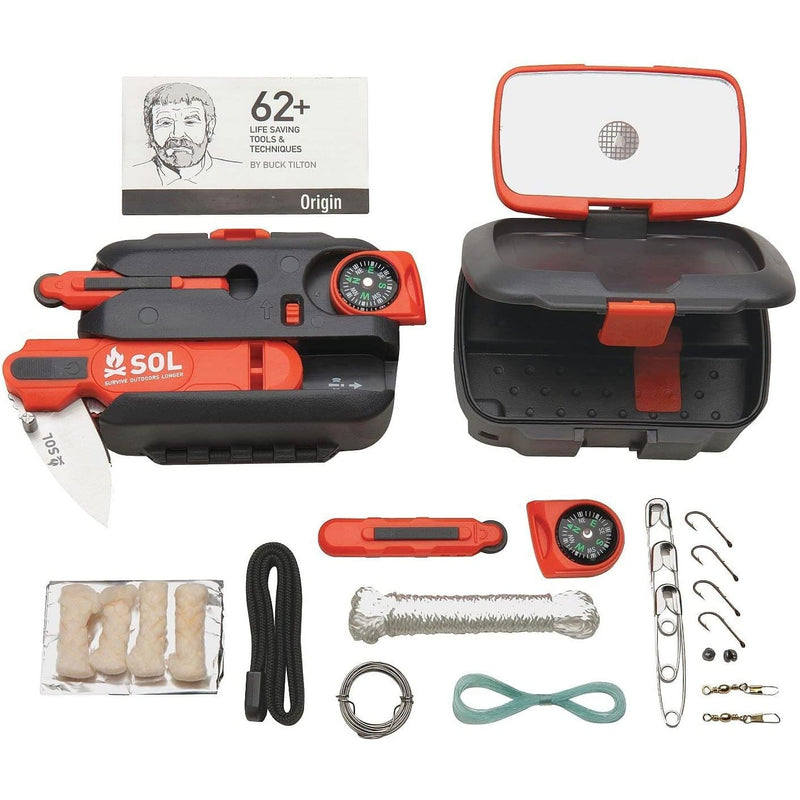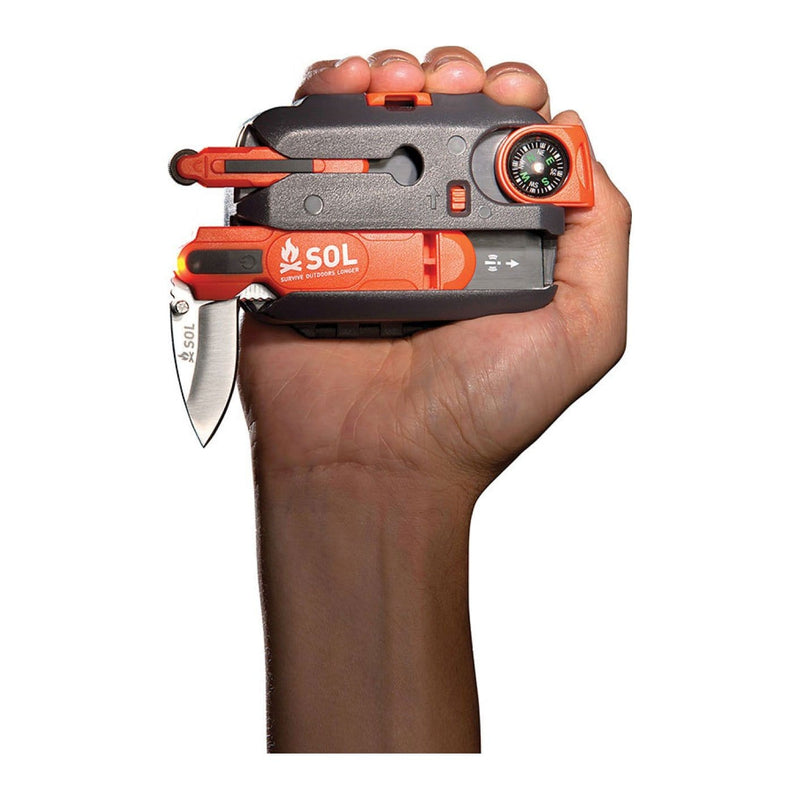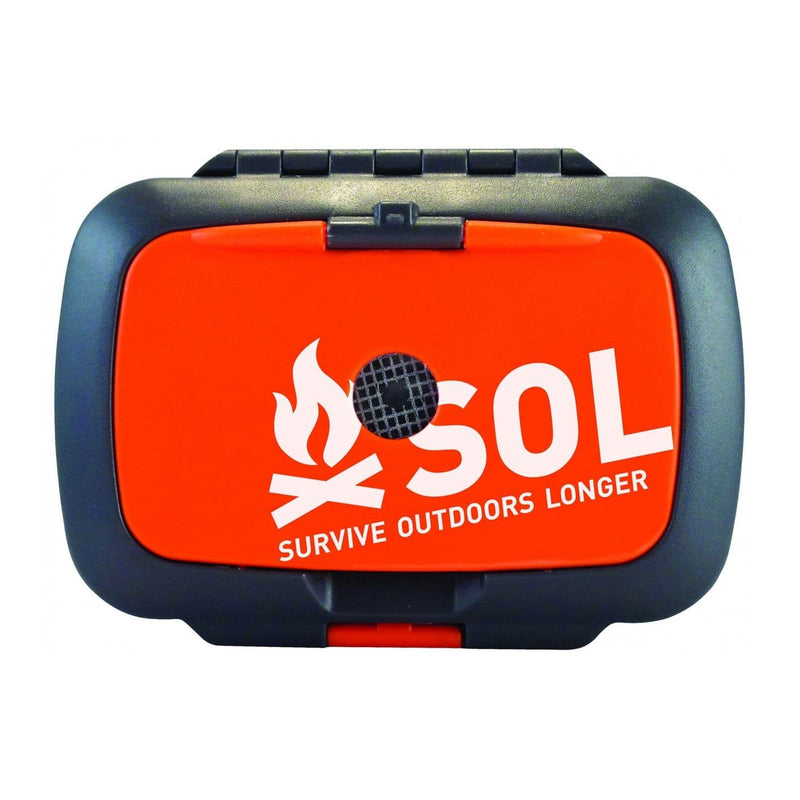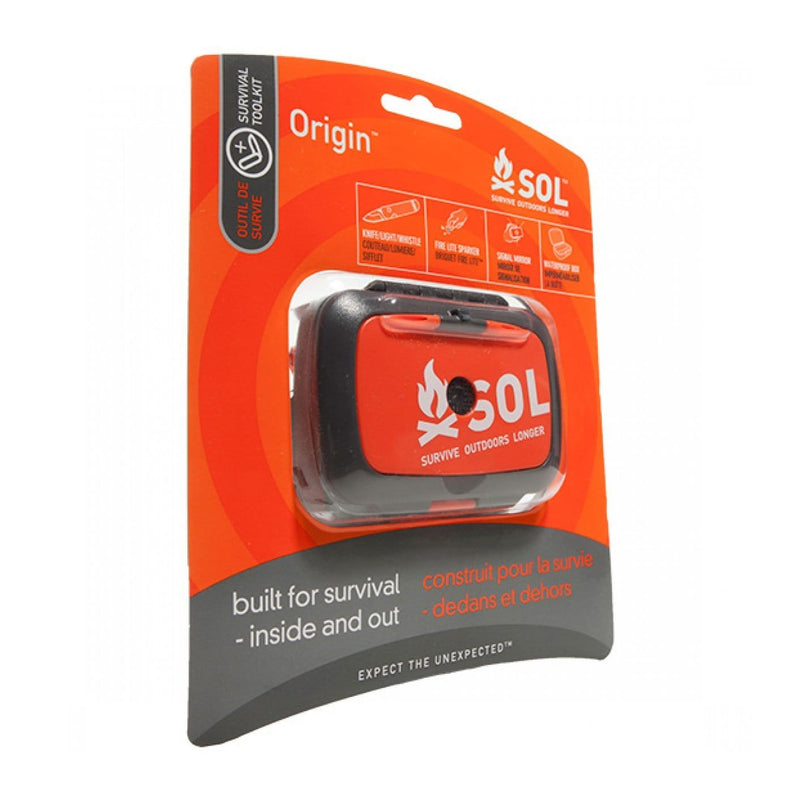 The SOL Origin™ redefines the survival kit from the ground up. In one product that fits in the palm of your hand, the Origin™ gives you the collection of tools you need to survive the unexpected and make it back alive. Think of it as the ultimate cross-breed of the traditional 'ten essentials' and a survival kit, all wrapped up in one lightweight, easy to carry, indestructible package. The heart of the Origin™ is its ABS-plastic waterproof case which contains an array of key survival tools, including Tinder-Quik™ fire starters, 150lb-test braided nylon cord, mil-spec stainless steel wire, and an emergency sewing and fishing kit. For those unfamiliar with wilderness survival, backcountry expert Buck Tilton's survival instructions contain over 60 survival techniques and strategies. Integrated into the Origin's lid is a flip-up Rescue Flash™ signal mirror with a retro-reflective aiming aid. Flip the case over and find the one-hand-operable Fire Lite™ sparker, a removable liquid-damped compass and, secured in a button-release slot, is a versatile folding lock-blade knife. This essential survival knife features a 100db rescue whistle, ultra-bright LED light integrated into the handle and an AUS-8 steel drop-point blade designed for the precision cutting you need during survival emergencies. Welcome to the future of survival – the Origin™ is mandatory equipment for any outdoor adventurer.
Be Seen And Heard
Broadcast your location up to 20 miles away with the Rescue Flash™ signal mirror and up to one mile away with the 100dB pea-less whistle.
Keep your Essentials Safe and Dry
Rugged ABS hinged case with machined silicone gasket for waterproof protection.
Slice, Shave, and Whittle
AUS-8 stainless steel, folding lock-blade knife designed for precision cutting.
Illuminate your Work
Ultra-bright LED light aims down the blade for task lighting; 15 hours of run time and easily replaceable batteries for extended use.
Start a Fire with One Hand
Fire Lite™ sparker is waterproof, easy to grip, and one hand operable. Produces over 5,000 sparks.
Find your Way Back
Removable, liquid-filled button compass will help you get your bearings straight.
Knowledge is Survival
Written specifically for the Origin, Buck Tilton's 62+ lifesaving tips and techniques will help you make use of all the unique tools inside the Origin - and Survive Outdoors Longer.
KIT DETAILS
Package Size:

3.875" x 2.75" x 1.5"

Package Weight:

6.1oz.

Group Size:

N/A

Trip Duration:

N/A

Item #:

0140-0828
Sewing
1 - Sewing Needle, #7, Darner
4 - Safety Pins
Survival Instructions
1 - 62 Lifesaving Tools & Techniques
Survival Tools
1 - Aluminum Foil, Heavy Duty, 3 Sq. Ft.
1 - Combination Knife, LED Light & Whistle
1 - Compass, Button, Liquid Filled
1 - Fire Lite™ Fire Striker
4 - Fish Hook, #10
1 - Fishing Line
1 - Safety Wire, Stainless Steel, (6 ft of 0.020")
1 - Signal Mirror, Rescue Flash™
2 - Snap Swivel, Size 12
2 - Split Shot, Tin B
4 - Tinder Quick™
We reserve the right to add, substitute, or delete items if necessary
Please note: Some medications may not be available in products sold outside of the US, additional items may be substituted.