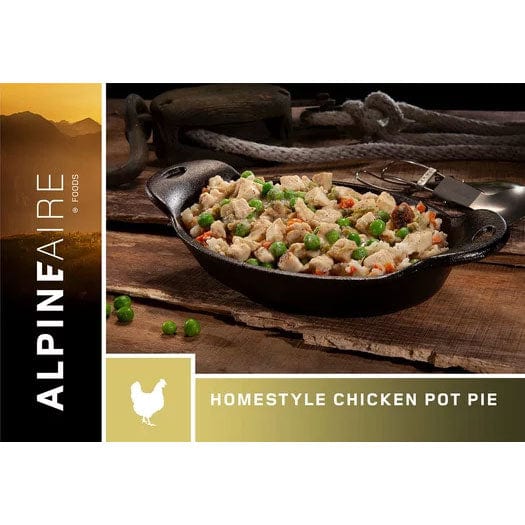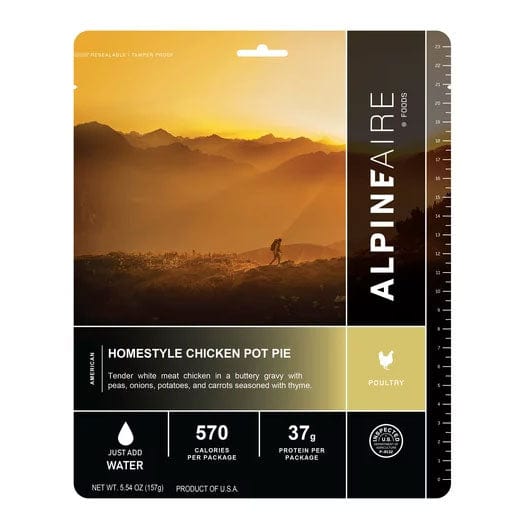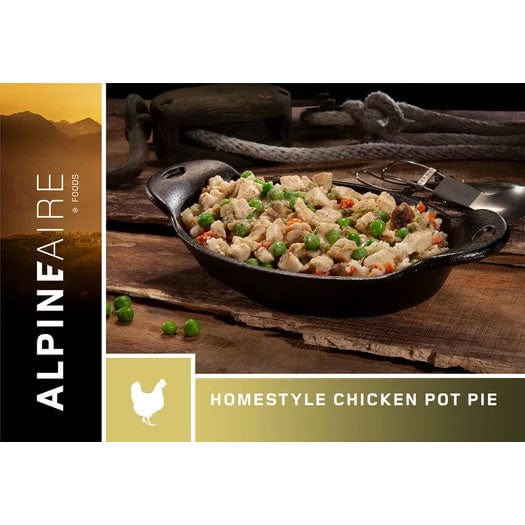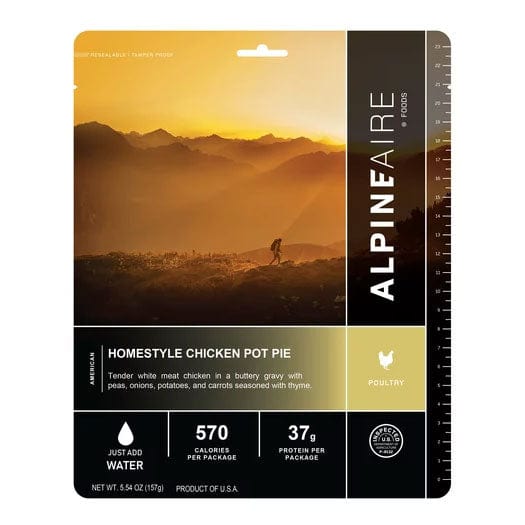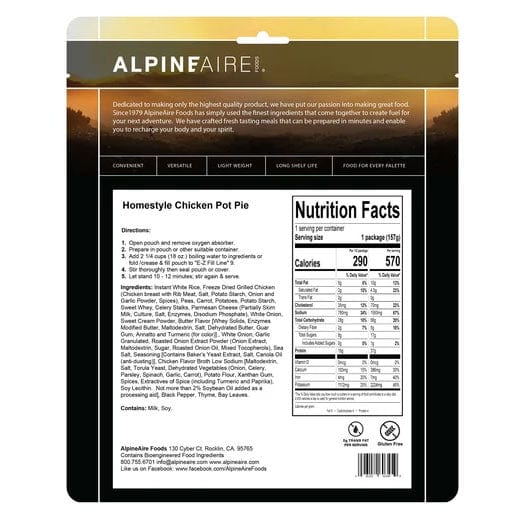 Enjoy some comfort food, no matter how far out you've trekked. This AlpineAire Foods Homestyle Chicken Pot Pie features tender chicken in a buttery gravy with peas, onions, carrots and thyme.
Easy to prepare; just add hot water to the fill line without the need of a measuring cup; ready in 10-12 minutes
The AlpineAire Foods Homestyle Chicken Pot Pie has a 5-year shelf life
Nutrition facts and ingredients displayed here may differ from what is printed on the packaging; information on packaging reflects actual contents
Made in USA.
Ingredients: Instant White Rice, Freeze Dried Grilled Chicken (Chicken breast with Rib Meat, Salt, Potato Starch, Onion and Garlic Powder, Spices), Peas, Carrot, Potatoes, Potato Starch, Sweet Whey, Celery Stalks, Parmesan Cheese (Partially Skim Milk, Culture, Salt, Enzymes, Disodium Phosphate), White Onion, Sweet Cream Powder, Butter Flavor [Whey Solids, Enzymes Modified Butter, Maltodextrin, Salt, Dehydrated Butter, Guar Gum, Annatto and Turmeric (for color)]., White Onion, Garlic Granulated, Roasted Onion Extract Powder (Onion Extract, Maltodextrin, Sugar, Roasted Onion Oil, Mixed Tocopherols), Sea Salt, Seasoning [Contains Baker's Yeast Extract, Salt, Canola Oil (anti-dusting)], Chicken Flavor Broth Low Sodium [Maltodextrin, Salt, Torula Yeast, Dehydrated Vegetables (Onion, Celery, Parsley, Spinach, Garlic, Carrot), Potato Flour, Xanthan Gum, Spices, Extractives of Spice (including Turmeric and Paprika), Soy Lecithin. Not more than 2% Soybean Oil added as a processing aid], Black Pepper, Thyme, Bay Leaves.
| | |
| --- | --- |
| Serving Size | 1.5 cups |
| Servings per Container | 1 serving(s) |
| Calories per Serving | 570 |
| Calories from Fat | 90 |
| Total Fat | 10 grams |
| Saturated Fat | 4.5 grams |
| Trans Fat | 0 grams |
| Cholesterol | 70 milligrams |
| Sodium | 1550 milligrams |
| Carbohydrates | 56 grams |
| Potassium | 2224 milligrams |
| Dietary Fiber | 5 grams |
| Sugars | 17 grams |
| Protein | 37 grams |
| Meat | Chicken |
| Gluten Free | Yes |
| Net Weight | 5.5 ounces |