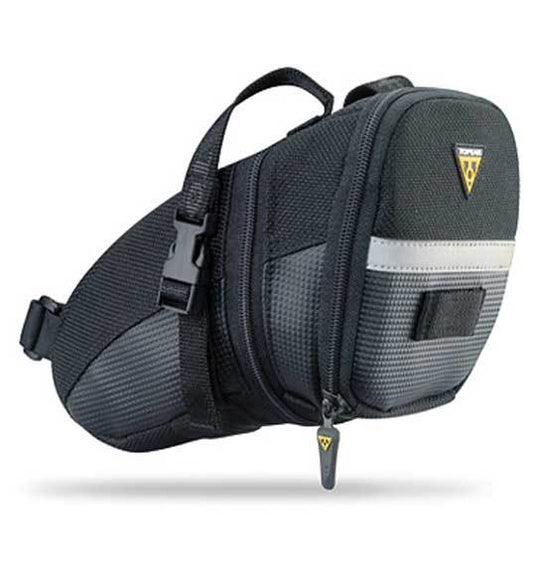 Don't be left on the trail or side of the road without flat fixing equipment. The Topeak Large Aero Wedge Seat Bag with Velcro is intended for all cyclists including commuters, tourists, and fitness riders alike. The Large Aero Seat Bag can be mounted on most seats and is designed to carry tubes, a pair of tire levers, a multi tool, a patch kit, a CO2 inflator and other items. The bag is designed to be used on all road, mountain, hybrid, recumbent and touring style bikes. Our Aero Wedge Pack is designed with the most aerodynamic profile and its slightly narrower width eliminates thigh rub and stays hidden from the wind. Safety features include a reflective strip, and strap to mount tail light. The Large Aero Bag can also expand to add 20-30% more volume.
1200 Denier Polyester. Dupont Teflon Coating is light weight and provides durability and weather resistance.
Traditional strap mounting with velcro.
Features 3M Reflective Strip and a place to mount your Topeak RedLite for added visibility.
Size (L x W x H): 23x13x14 cm/9.1x5.1x5.5 inches
Weight: 165 grams.