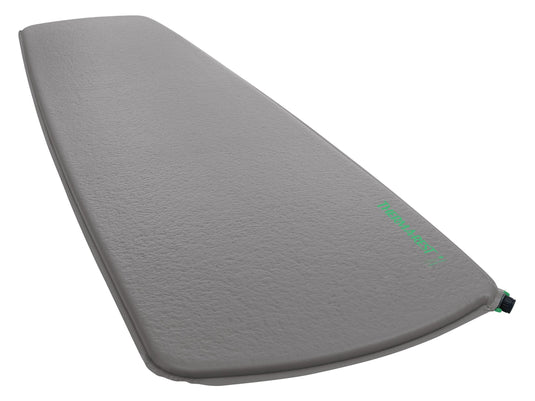 The Trail Scout will provide comfort and value for those discovering a love for the outdoors. The 1-inch (2.5 cm) thick pad is gives users a three-season comfort and warmth with a 3.1 R-value. The Trail Scout compacts small enough to easily fit into your pack. The Trail Scout has been updated with the high-performance WingLock valve, which has three times the airflow rate of the classic valve thanks to a larger opening and one-way inflation. The Trail Scout is made to ensure quality and minimize environmental impact. The pad includes a compact stuff sack.
Get Started Outdoors: Provides the essential comfort you need at an exceptional value.
Portable Comfort: Exceptionally compact, allowing you to take it anywhere.
Lightweight: Weighs just 1 lb. 14 oz. (850.5g) for a 72" mattress.
Stuff sack included.
Small Specs
Dimensions: 20 x 47 in.
Pack Size: 11 in.x 5.3 in.
Weight: 14 oz.
Thickness: 1 in.
R value: 3.1
Regular Specs
Dimensions: 20 x 72 in.
Pack Size: 11 in.x 6.3 in.
Weight: 1 lb. 6 oz.
Thickness: 1 in.
R value: 3.1
Large Specs:
Dimensions: 25 in. x 77 in.
Pack Size: 13 in. x 7 in.
Weight: 1 lbs. 14 oz.
Thickness: 1in.
R value: 3.1