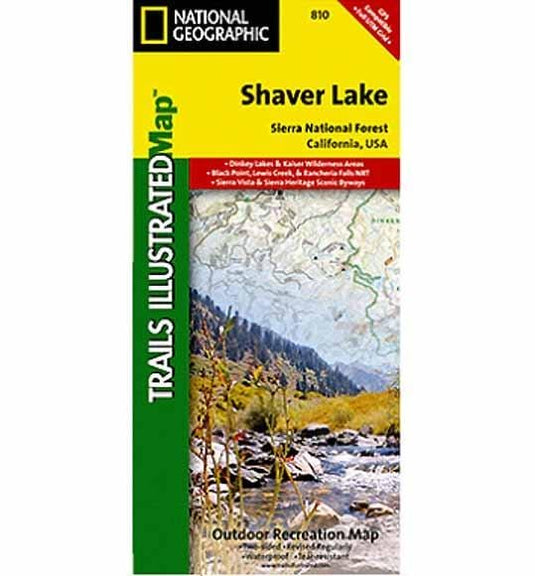 Trails Illustrated folded topo map - Outdoor Recreation map shows hiking trails and recreational features, printed on waterproof, tear-resistant plastic material. Coverage includes Sierra National Forest, Kaiser Wilderness, Dinkey Lakes Wilderness, portions of the John Muir and Monarch Wilderness, Mariposa Grove of Giant Sequoias within Yosemite NP, Nelder Grove Historic Park, Millerton Lake State Recreation Area, Redinger Lake, Bass Lake, Huntington Lake, Coutright Reservoir, Wishon Reservoir, and Shaver Lake.
Like all Trails Illustrated maps, Shaver Lake / Sierra National Forest was developed in collaboration with local agencies and experts, in this case the Three Forests Interpretive Association which supports Sierra, Stanislaus, and Sequoia National Forests.
This region contains some of the most visited backcountry in the United States, popular with hikers, mountain bikers, anglers, hunters, and winter sports enthusiasts.
50 foot contour intervals
Scale = 1:63,360
Printed on waterproof tearproof tyvek sheets
2 sided map
Printed in multi colors for your map reading comfort and enjoyment
Completely indexed
Historical notes and features, trail charts and mileage
View points
Shelter locations
Parking information
Beaches
Updated regularly
Approximately 4 1/4" x 9 1/4" folded; 25.5" x 37.75" fully opened
Approximately 4 1/4" x 9 1/4" folded; 25.5" x 37.75" fully opened
1cm = 0.6km - 1" = 1 mile
Publisher - Trails Illustrated/National Geographic
Year - 2008